Mr. Sathesh Roy
Founder of Healing Cell Pte Ltd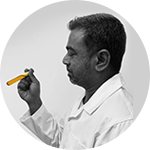 Sathesh Roy is the founder of Healing Cell Pte Ltd. The history started many years ago. During that era, his great-great-grandfather, great-grandfather and grandfather were the "Chief Medicine" men for a few districts in Tamil Nadu in India. They had cured many ailments through Ayurveda medicine, a form of traditional herbs in treating a person by eliminating impurities, reducing symptoms, increasing resistance to disease, reducing worry, and increasing harmony in life.
Roy was blessed to be given the golden opportunity to access to the ancient palm scripts and old notes in the actual possession of his ancestors.
Roy, being young and curious about traditional herbs, began reading and exploring the old manuscripts and eventually came out with a few simple formulas which could help mankind. From then on, the village elders knowing him as a bright child, started guiding and explaining to him the different species of herb and turmeric found in the jungles and forests in some parts of India. With expert advise and guidance, he began experimenting the various species of turmeric and learning how to blend them. His findings had shown that some turmeric species decay rapidly thus making the plant ineffective for purpose of treatment. However, his passion in sharing and helping the injured and the sick, which he could reach out to, did not dwindle even though knowing the outcome of the findings. His "Never Say Die" attitude spurred him to continue in search of ways to overcome this obstacle. His effort finally paid off when he happened to chance upon a new and upcoming "Nano Technology" and how it could better help mankind. It was then he struck "Eureka" where he started to question himself: "What if I could isolate genes in plant and herbs and extract them to benefit mankind?" With that in mind and much effort being made, he managed to come across a research institute based in Switzerland where he resided for 3 years inorder to conduct his Research and Development to identify active genes and characteristics of certain plants.
His effort finally paid off again. It only took him about 2 years where he eventually produced sample of Nano Curcumin serum extract. Inorder to further prove the positive results, he continued with the in-house laboratory tests for another year in Switzerland.
After 3 years in Switzerland, he brought samples of Nano Curcumin serum to Hawaii and USA to test it on sick patients. As the Nano Curcumin serum is pure plant extract, most of the patients tested were able to adapt to it. And within a few weeks, most of them had positive results and began to show sign of improvement in their health.
Subsequently. he shared the Nano Curcumin serum with his friends and family in Singapore and similarly, it showed positive results too.
With his passion to help people with ailments, he incorporated a company in Singapore known as "Healing Cell Pte Ltd" on 8th October 2018 and has been helping and reaching out to more people with ailments since then.